SwapN>GO
Direct Currency Exchange.
- Home /
Register -
About us
Thank you for taking the time to know about us. SwapN>GO is a web application designed to help you to move into the cryptocurrency economy. We truly believe that cryptocurrencies are the future, a barrier break when humanity does not require any more precious metals to sustain country's economies.
Whit that in mind a team of engineers designs the application to provide a gateway between digital currencies and paper money. Is really easy to use by the end of this page you will know everything about our interface and how things work.
We provide a web space where you can easily register and participate in placing bids over whatever business you have on digital assets, Let us say you are a miner of Bytecoin like we are. You want to sell your coins but before that, you have to go to the Exchange and do a process there send back to another Exchange do another process there too if you are not expert the experience of trading crypto could be scary for beginners.
Let's try another approach you want to invest in MIOTA or Siacoin markets or just want to buy some regular Litecoin or Bitcoin you would need to put your credit card numbers or do some other consider risky inputs. What we suggest is place offers that are destroy automatically after one our so need to worry about having a long sessions for selling your cryptos or that you are compromised whit your sell or buy because the market went up or down you just placed a burnable offer if some other party is interested in your asset you will make your deal securely.
Well, let's hope by know you understand where are we coming from. Let's go right jump to our interface and functionality.
Main Screen
This is our main screen, you can see is very intuitive, we have a tab system going on, every tab has a title you can perform that activity in that section. Here is a screen:
Your Balance
In this section you will see reflected your balance with us.
SwapN>GO ID
In the Swapngo ID card you have all the information you need to contact the person behind the operation that interests you, plus comments and feedback from past trades.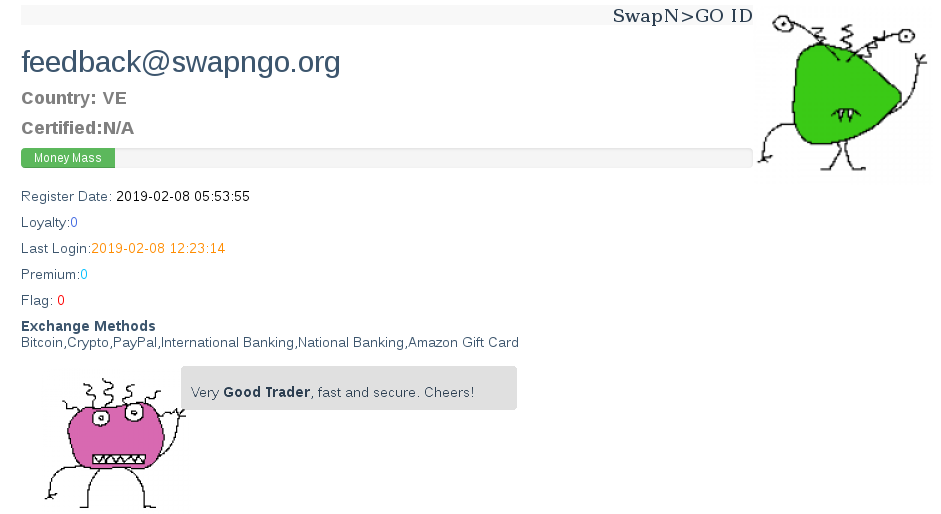 Operations
In this section you will be able to view your current Sell offer in the system now remember these are burnable bids so they will only last for 60 mins you can only post one Sell offer. once those 60 mins have passed by and there is new activity on the dashboard you are clear once again to one more sell. cool ha?
Exchange Board
Where all the offers live in this section is where you can see all available offers for digital assets as well as for cash operations. If you are interested in one just type in the ID of the bid you want to check and if the profile and reputation information of the other party is ok, you can press Trade and there you are open for business.
How it works
At this point, you hit trade for something of interest the information is exchanged and both parties receive a token via email, when both parties are satisfied whit the operation they can go and use that token to report back to the system and we are all set. The system retains the coins until both parties report OK status.
Tokens
The tokens will get to your email and you can validate the flow of your operation from there. The tokens have the following appearance:
Profile
This section is for setting your PayPal email and your banking information. Remember to always perform your operations with the information set on the system do not make payments or any other action if the information came from another source that is not SwapN>GO internal system.
Withdraw
Create a request for a Withdraw is very simple we use 3 layers of security one is your SwapN>GO password, the other is the key to your account, at last, a token validation and, of course, you will need to input a beneficiary wallet.
Deposits
Create a deposit record into your account, click on the icon of the cryptocurrency you want to send funds to and copy the address, send the funds, then submit your deposit.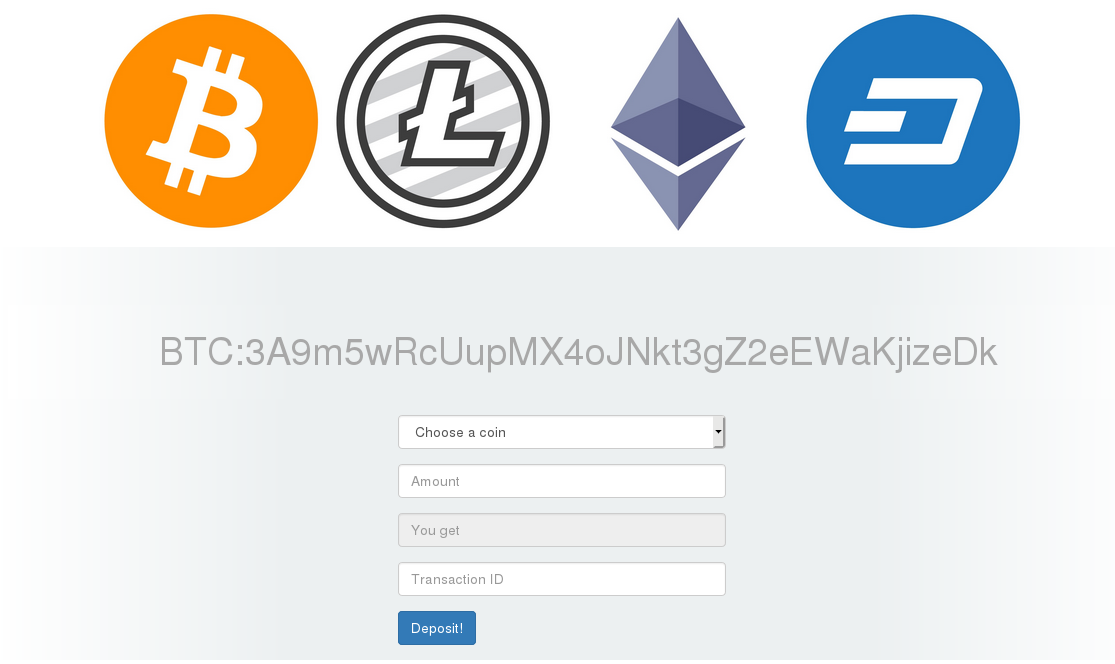 Our politics
For people trying to do non-honest business or shady behavior, our immediate reaction is account banning.